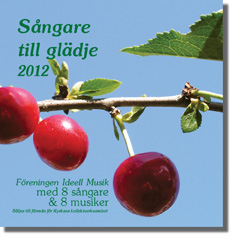 The 2012 version of FIM/nosag charity CD contains a selection of eight fine Swedish singers from varied genres - lied, musical, chanson, opera, sacred - together with eight musicians:

Anna Lindkvist, Torbjörn Pettersson, Carolina Linse, Désirée Baraula, Liz-Marie Tommo, Rolf Bromme, Raymond Björling, Stellan Sagvik,
André Baraula, Stefan Lindgren, Stefan Geiland, Anouchka Mukherjee, Kina Sönstevold, Wanda Geissendorf and Maria Neumüller presenting music by such variety as composed by Grandert, Simon, Grieg, Ellington, Dowland, Sibelius, Fauré, Bach, Händel, Kjerult, Giordani, Alfvén, Strauss and Rodius. All benefit from selling this CD goes to the Churches´charity work.

These CDs are produced in collaboration with Mats Rodius and FIM, Föreningen Ideell Musik (The Society for Idealistic Music), working with collecting support money to different help projects all around the world.


More nosag records/FIM productions:
nosag CD 092, nosag CD 099, nosag CD 119, nosag CD 135,
nosag CD 147 , nosag CD 151 , nosag CD 156/157, nosag CD 161 ,
nosag CD 166 nosag CD 167 and nosag CD 177.