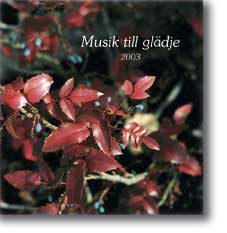 "Musik till glädje 2003", a unique recording where all the benefit goes to the Swedish help organisation Lutherhjälpen and their project in Ethiopia, supporting planting of new crops, educating women not to get AIDS and watering plans.

The rich, almost 80 minutes filled CD contains the debut of young talented pianist Karin Haglund and also the great soprano Anna Lindkvist. The flutist Kinga Práda and an Ensemble from Music School Lilla Akademien completes this interesting production containing music by Peterson-Berger, Grieg, von Koch, Rodius, Sagvik, Seymer, Rodriguez, Debussy, Ibèrt, Franck & Schubert.

This CD is produced in collaboration with Mats Rodius and FIM, Föreningen Ideell Musik (The Society for Idealistic Music), working with collecting support money to different help projects all around the world.




You need Real Audio to listen to this file:
Ibèrt: from "Entr´acte"


Listen to all nosag CDs on the air:
"YESS music"
with the whole CD-catalogue of nosag records