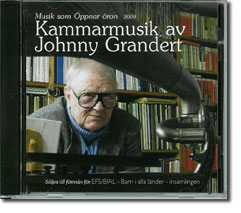 The 2009a version of FIM/nosag charity CD contains first recordings of new (2007-2008) chamber music pieces for flute, oboe, clarinet, bassoon, French horn and piano by Swedish composer Johnny Grandert.

These CDs are produced in collaboration with Mats Rodius and FIM, Föreningen Ideell Musik (The Society for Idealistic Music), working with collecting support money to different help projects all around the world. All benefit from this CD goes to BIAL - a children´s help organisation working together with EFS and the Swedish Church.

More nosag records/FIM productions:
nosag CD 092, nosag CD 099, nosag CD 119, nosag CD 135,
nosag CD 147 , nosag CD 151 and nosag CD 156/157.