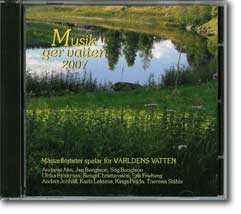 "Musik ger vatten 2007", another unique recording from FIM/nosag records where this year all the benefit goes to the Swedish help organisation Lutherhjälpen, collecting money to give fresh water to poor people in Africa.

On this CD, master flutists Andreas Alin, Jan Bengtson, Stig Bengtson, Ulrika Björkman, Bengt Christiansson, Erik Frieberg, Anders Jonhäll, Karin Lekteus, Kinga Práda, and Theresia Ståhle are playing great flute pieces by Boismortier, Mozart, Kuhlau and J.S. Bach in settings for three, four or five flutes.

This CD is produced in collaboration with Mats Rodius and FIM, Föreningen Ideell Musik (The Society for Idealistic Music), working with collecting support money to different help projects all around the world. On nosag records FIM productions also on nosag CD 092, nosag CD 099, nosag CD 119, nosag CD 135 and nosag CD 147.



You need Real Audio to listen to this file:
W A Mozart: Ouvertyr till Figaros bröllop


Listen to all nosag CDs on the air:
"YESS music"
with the whole CD-catalogue of nosag records