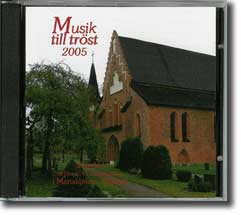 "Musik till Tröst 2005", another unique recording from FIM/nosag records where all the benefit goes to the Swedish help organisation Lutherhjälpen´s campaign for Erasing Hunger from earth.

On this CD, master flutists from the Stockholm Philharmonic Orchestra, and the Orchestra of the Royal Opera of Stockholm Stig Bengtson, Bengt Christiansson and Eje Kaufeldt plays together with free lance soloists Kinga Práda, Josefin Nilsson, Kristina Kaufeldt, Josefin Hägvide, Alisa Tserkovnaja and Mats Rodius. The organist of Maria Magdalena church Mathias Kjellgren completes this interesting production containing music by J.S.Bach, Mats Rodius, Gabriel Fauré, Maria Theresia von Paradis and Georg Philipp Telemann.

This CD is produced in collaboration with Mats Rodius and FIM, Föreningen Ideell Musik (The Society for Idealistic Music), working with collecting support money to different help projects all around the world.




You need Real Audio to listen to this file:
J.S. Bach: Wenn wir in höchsten Nöten sein


Listen to all nosag CDs on the air:
"YESS music"
with the whole CD-catalogue of nosag records