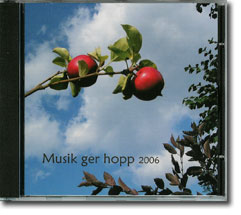 "Musik ger Hopp 2006", another unique recording from FIM/nosag records where all the benefit goes to the Swedish help organisation Barnens Hopp, working for better situation for orphan children in former East countries and also struggling against trafficking and children abuse.

On this CD, DUO PRÁNKY - Kinga Práda, flute and Emese Jánky, cello - is playing very fresh, specially arranged pieces by among others Villa-Lobos and Honegger, solo flutist Mats Rodius is presenting a rich in expression version of the great suite on La Folia by Marin Marais and also great performances of music by J.S. Bach and Telemann.
All pieces are surrounded by atmospheare and environmental sounds, well in tune with the music, such as goats and sheep in a meadow with bees and flies swirling arround, and seagulls in the distance, we take an old horse coach to the nearby village, visiting Mass in the little church and return out in the open fields, listening to birds singing and feeling the warmth of the sun, while listening to beautiful music and making a contribution to Barnens Hopp.

This CD is produced in collaboration with Mats Rodius and FIM, Föreningen Ideell Musik (The Society for Idealistic Music), working with collecting support money to different help projects all around the world.




You need Real Audio to listen to this file:
J S Bach: ur Partita a moll
and C Ph Em Bach: Sonat för flöjt och cello
Listen to all nosag CDs on the air:
"YESS music"
with the whole CD-catalogue of nosag records