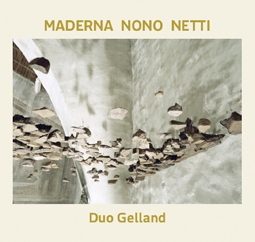 New CDs from - our GREAT DUO ARTISTs DUO GELLAND ~ Italian album featuring music by Bruno Maderna, Luigi Nono and Giorgio Netti
The booklet contains an essay by Gianluigi Mattietti
two violins like a two-faced Janus:
between memories, labyrinths and resonances

Bruno Maderna's open score classic Serenata per un satellite in an unexpected and extraordinary realization for two violins opens the album.
Following is Luigi Nono's last work, his violin duo "Hay que caminar" sognando, subtle, extreme, evocative, existentialistic.
The third work is inoltre by Giorgio Netti, employing bent metal sheet preparations between the violin strings to create an unparalleled evocative sound universe like one long respiratory movement, composed for Duo Gelland, premiered at Stockholm New Music.

Duo Gelland, established in 1994, has revived an 18th-century concept, the violin duo, and turned it into a driving force of contemporary exploration for which they have received many prizes, among them The Annual German Record Critics' Award in 2008.

More than 200 works have been dedicated to Duo Gelland - mostly violin duos, but also several concertos for violin duo and orchestra or choir, of which they premiered a handful in the Berliner Philharmonie. The Gellands also research and revive the vast forgotten violin duo repertory of the 18th century. That fruitful interplay between new and old is central to Duo Gelland's artistic processes.

nosag records proudly presents Duo Gelland's earlier releases on nosag, including Swedish Miniatures nosag CD 191, Violin Duos Volume 1 to Volume 6 nosag CD 075nosag CD 121, nosag CD 152, nosag CD 190, nosag CD 236 and nosag CD 181 as well as the experimental art music shortfilm on DVD, Traumwerk nosag CDVD 142 - awarded "Preis der deutschen Schallplattenkritik" 2008, a price given by a jury of 140 well-known music critics, music journalists and musicologists from Germany, Austria and Switzerland. Further on a CD with music by Swedish composer Olof Lindgren, nosag CD 141 and Sinfonia per due violini by Fredrik Hagstedt nosag CD 192..