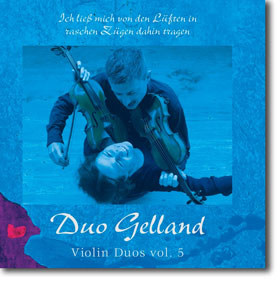 New CDs from - our GREAT DUO ARTISTs DUO GELLAND ~ A CD with first recording of The Fifth volume of contemporary Violin Duets with music by: Jacqueline Fontyn ~ Carin Bartosch Edström ~ Samuel Alder ~ Britta Byström ~ Marie Samuelsson.


Since its inception in 1994, Duo Gelland has revived an 18th-century concept, the violin duo, and turned it into a driving force of contemporary exploration.

The ensemble has received more than 100 dedications - mostly violin duos, but also several concertos for violin duo and orchestra or choir. It has given the first performance of a handful of these compositions in the Berliner Philharmonie. Parallel to this work, the Gellands research and revive the vast forgotten violin duo repertory of the 18th century. That fruitful interplay between new and old is central in how Duo Gelland operates.



nosag records proudly earlier with Duo Gelland released Vol 1 - Vol 4 of Violin Duos on nosag CD 075, nosag CD 121, nosag CD 152, nosag CD 190
and Vol 6 nosag CD 181 as well as the experimental art music DVD Traumwerk nosag CDVD 142 - awarded "Preis der deutschen Schallplattenkritik" 2008, a price given after the votes from around 140 well-known critics, journalists and musicologists from Germany, Austria and Switzerland, and also a CD with music by Swedish composer Olof Lindgren, nosag CD 141 and one with SINFONIA PER DUE VIOLINI, music by FREDRIK HAGSTEDT nosag CD 192.