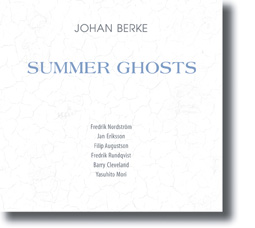 The 8th release from Johan Berke Upstairs Five - SUMMER GHOSTS - contains mostly previously unreleased original compositions by Berke, recorded November, 2014.
The current line-up contains Pedal & Lap Steel player Jan Eriksson, who is present, for the first time, for the entire album. He was previously featured on part of Upstairs Five (2004), The Cactus Suite (2006), double-cd Eastern Scene in Grey Minor (2008). The Steel-guitars gives the quintet an unique orchestral and unified sound.
Saxophone player Fredrik Nordström is back after a break. He was last featured on the energetic live-album: OPEN DOOR (2012).
The rhythm-section is, as usual, the creative tandem of Filip Augustson & Fredrik Rundqvist.



The centerpiece of SUMMER GHOSTS is the suite Pictures of August. With a playing time of 42 minutes it forms a companion piece to the previous long suite Nordic Scenes in Chromatic Blue (2011), which stretched for the whole 52 minutes duration of the cd and share a similar mood of nordic melancholy.

The other tunes of the album is a diverse trio, starting with the ballad PM in the Park, which is dedicated to drummer / composer Paul Motian. Any Other Ideas?!, is an old tune in a new, aggresive and free improv-oriented arrangement, featuring the voice talent of Barry Cleveland (he also provides a soundscape for the first part of Pictures of August), and, closing the album; Exile, with recitation in japanese by Yasuhito Mori, sparsely accompanied by acoustic guitar and electronics.

SUMMER GHOSTS is very much a statement of Johan Berke's growth as a composer, and the unity of these musicians, formed by more than a decade of playing Berkes music in various line-ups of Upstairs Five.

The line-up on this recording contains
Fredrik Nordström Tenor & Baritone Saxophone
Jan Eriksson Pedal Steel & Lap Steel. Electric Guitar on track 6
Johan Berke Electric & Acoustic Guitars, Electronics
Filip Augustson Bass
Fredrik Rundqvist Drums
with special guests:
Barry Cleveland Voice on track 2 and soundscape on track 3
Yasuhito Mori Japanese translation and voice on track 9.