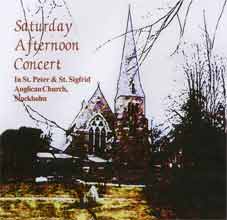 Rolf Bromme, baritone from Stockholm, sings some of his favourite songs with pianist Sandra Brucker at this Saterday Afternoon Concert in the Anglian Church of Stockholm, a concert rather typical for the church´s programs. Flutist Kinga Práda plays some virtuoso solos, by Doppler and also the famous Carmen Fantasie by Borne, and she is also playing together with Bromme in music by John Alan Griffiths, English composer living in Sweden.

Sandra Brucker, pianist, originally from Arad in Transilvania. She teaches from 1998 at Lilla Akademien in Stockholm.
Tommy Strand, 14, student, is studying piano with Sandra Brucker at Lilla Akademien.

Kinga Práda Sagvik, flutist, Stockholm, originally from Cluj, Transilvania, is working as free lance flutist and plays with great virtuosity all the classical romantic and modern flute repertoir. Kinga is frequently making concerts together with several of the finest musicians of Sweden and she in 2003 released her first solo CD on the label nosag records (nosag CD 029).