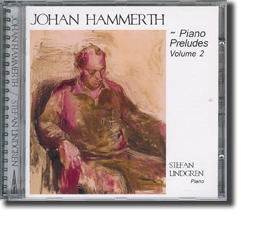 Now Johan Hammerth and Stefan Lindgren present the second volume of a complete edition on CD of Piano Preludes. The composer himself writes about this collection of preludes and about his work with them:
"I began composing the first preludes in 1999. In just over a year I wrote 24 Preludes. These works are written from central tones, not as Bach or Chopin, with key as foundation. Instead the central tones connect to nature, the expression. My first thought was to have four basic pianistic conditions, characters, almost like different piano schools, for example: as A, Russian school, with great sound, balanced voice leading and impeccable technique. B, more French, elegant, where the sound is mostly at the surface. C, more based on chamber music, where the major expressions may stand aside for a more philosophical way of thinking. D, finally, the virtuosic, contemporary expression, almost with an improvisational basis. The original idea was that four pianists, with these four different conditions, would premiere the works, on the same stage, with four grand pianos. But the idea was both expensive and difficult and impossible to implement. From these four basic requirements, I created six different expressions, such as nervoso, romantico, virtuoso, etc., with underlying performance agenda. There are various cyclic principles in these 24 preludes. Each prelude describing its particular state, one enters a state, a place, and then a few minutes later getting out of the feeling. Many worlds are visited, such as small waltzes, repeated homophony, polyrythmical stories and also two part or polyphonic love meetings. I have not written the preludes chronologically. That is, I began with prelude no.1. but then there were no. 20, no. 7 etc. The preludes may of course be played as separate pieces, on occasion, but also rehashed in various combinations, and last but not least, played all 24, in strict order. The length of the preludes are between 3 and 7 minutes and the total length approx. 120 minutes, depending on the exact tempo the pianist chooses. Today I have composed a further 24 preudier, separate small pieces, without real relationships. Among them are eight preludes inspired by the poet Tomas Transtömer´s words. These pieces are composed for the left hand, or two hands. In my plans are another 8 Tranströmer pieces, of which prelude 49 is already composed and recorded on this CD. The latter 24 preludes is a new journey for me to develop my musical language, a search of the small size, a musical language that I now use also for my larger compositions. For example, prelude no. 30 is the basis for the second movement of my third piano concerto, this prelude follows me every day and I recycle its mood in several works. Writing these little foreplays has become everyday life for me and maybe I will never completely leave this composition process. "
The virtuoso pianist Stefan Lindgren, also a composer - very handy when it comes to interpreting complicated works by a collegue - plays on this volume 2 CD another 12 of the - 2011 - 49 preludes. On volume 1 (nosag CD194) you can enjoy 17 preludes).
More to follow in 2012.

You need Real Audio to listen to this file:
Hammerth: Prelude #16

Order our other CDs directly from us: Orders

Listen to all nosag CDs on the air:
"YESS music"
with the whole CD-catalogue of nosag records