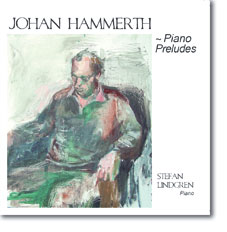 This is the first volume of a complete edition on CD of Piano Preludes by Swedish composer Johan Hammerth. The composer himself writes about his preludes:

"The Prelude genre appeals to me - free, however yet structure and thought. Schostakovich´s preludes and fugues are something I often study, and it was because of the discovery of this music I decided to compose piano preludes. 1999 I wrote 24 preludes. This has given me a taste for more, I keep on going, I have to, an ongoing process. The first 24 Preludes emanate from four basic moods, with six different expressions. Some of them have an affinity with each other. Prelude 25-32 are original compositions for the left hand, dedicated to Thomas Tranströmer; moods that draws heavily on the great poet's lyricism. These pieces I play almost daily, with both hands. So here is a choice. While I am today (Dec. 2010) getting close to prelude 48, composing preludes is as inspiring as at the start in 1999. It's been 11 years since I wrote Prelude 1 and probably these cycles are contributing to my development and, above all, my relationship deepened with my own instrument, the piano, and today I can barely imagine life without a new prelude."

The virtuoso pianist Stefan Lindgren, also a composer - very handy when it comes to interpreting complicated works by a collegue - plays 17 of the 48 preludes on this CD. On Volume 2 (nosag CD194b), released in the Spring of 2011, another 12 preludes are recorded - among them two written in 2011!

You need Real Audio to listen to this file:
Hammerth: Prelude #33


Listen to all nosag CDs on the air:
"YESS music"
with the whole CD-catalogue of nosag records