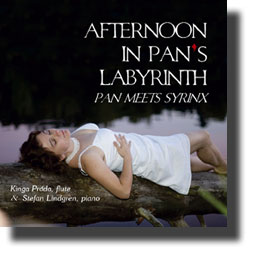 A beautiful chamber music concert with music about and around the myth Pan and Syrinx - this CD is also available as concert DVD on nosag CDVD 185.

Many pieces have been given their world premieres by flutist Kinga Práda. She has also recorded a CD solely consisting of contemporary Swedish music for flute, together with the percussionist Markus Leoson, Ilona Jánky Práda and Filarmonica de Cluj, on nosag CD 029, and also together with Ilona Jánky Práda nosag CD 082 with virtuoso flute pieces from 19th and early 20th centuries. A CD where Kinga plays only new contemporary flute concertos is "NUKONSERTER" on nosag CD 123.

Pianist Stefan Lindgren has been a soloist in most large orchestras in Sweden, among them the Royal Stockholm Philharmonic Orchestra, the Swedish Radio Symphony Orchestra and the Gothenburgh Symphony Orchestra. He has performed at a great number of piano recitals and also, at many chamber music concerts in Sweden as well as in New York, London, Paris and Vienna. In 1993-2001 he was the orchestra pianist with the Swedish Radio Symphony Orchestra and since 2007 he has been performing in the same capacity for the Royal Philharmonics. Stefan Lindgren has also collaborated in several recordings of chamber music, portrait CDs with his own compositions (nosag CDs 177 and 178)and also at many composer portraits at the Swedish Radio. He has been selected as "Artist of the week" for P2 Radio on more than one occasion. As a composer he has a varied and select output comprising of piano concerts, several pieces for orchestra, chamber music in various formations, and also songs.