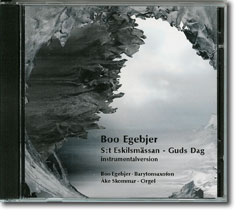 Boo Egebjer is educated at the Royal College of Music in Stockholm, his work as composer and lyricist covers simple songs as well as big scale pieces for choir and orchestra. Stylistically he uses both jazz and hard rock: no honest expression is alien to him.

This CD contains a concert version for Baritone Saxophone and organ of the St Eskil Mass, originally composed for Soloists, Choir and instrumental ensemble. It is available on nosag CD 106.

As a musician, specialising in the Baritone Saxophone, and as a singer, Egebjer tours Sweden and other parts of Europe. In the last few years, he has also toured North America. He has for many years played Saxophone interpretations of hymns for religious services broadcasted by the Swedish Radio. One lasting result of this is the friendship and many collaborations with organist Åke Skommar, as on this CD.

Boo Egebjer is also available on
Missa Pro Vivis (nosag CD 014),
Som någon viskar i mitt öra (nosag CD 066), and
Med Psaltare, Harpa och lite Norrsken (nosag CD 138).