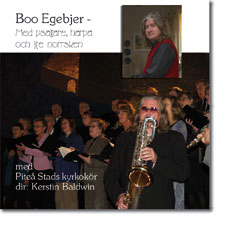 The tender Baritone Saxophone Player and composer Boo Egebjer here presents thirteen hymns and songs that document the close collaboration with his friends in Piteå Kyrkokör, conducted by Kerstin Baldwin, and also show a slowly growing musical Gospel work where the prayer is always at hand but the arrogance and self secure attitude is far away. These songs in Swedish will work their way into the gospel singing of many choirs in the Nordic countries.

The choir singing is accompanied by great players
Jerry Winblad von Walter, flute
Johan Tegheim, piano
Erik Lundström, bass
Stefan Söderlund, guitar
and the composer
Boo Egebjer, baritone saxofon


You can also listen to Boo Egebjer music on
Missa Pro Vivis (nosag CD 014) and
Som någon viskar i mitt öra you find on (nosag CD 066) and
S:t Eskilsmässan you find on (nosag CD 106).