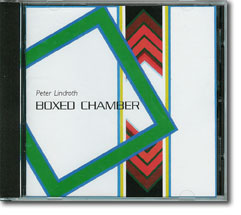 Peter Lindroth about his musical work:

My music is mine, but I inhabit a musical room where early memories of popular songs from the fifties; piano exercises; concerts; music school; pop-groups; choirs; music colleges; theatres; Swedish 'folk parks'; nightclubs; studios, and composition studies co-exist with a constantly present radio. All of these things are input that, of course, affect the output. To me 'tradition' is something omnipresent. You can stroll around in it like an old city; take a closer look at the buildings, or just walk about in the everchanging scenery, lost in ones own thoughts. You could chose not to see it, but it´ s still there, regardless.
At times I feel the need to distance myself from my music. I find it helpful to let the music rest for a while. When I do that, mercifully I remember very little of the compositional process. If I don't let it rest for a while then there's always the risk that memories of composing the piece might end up blocking my ears. I try to listen intuitively. . Of course I do remember what it was I was trying to achieve, and the special moments when the pieces started coming alive and began communicating with me.

This CD contains chamber music from this very many-faced Swedish composer. Peter Lindroth music is also available on nosag CD 133.