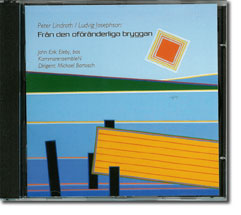 Peter Lindroth composed this amazing "chamber opera" for Basso voice and chamber ensemble to a rich text by poet Ludvig Josephson and the result, when performed by perfectly suited KammarensembleN and singer John Erik Eleby, conducted by Michael Bartosch, is a miniature drama that keeps you engaged to the very end:

One man's unhappy love affair with his own memories and the past keeps him from taking part in his present, which is happening all around him. He prefers to move in border territories, both those between dreams and reality and purely geographical ones; Stockholm's northeastern highway exits serve as a sort of stage for his nostalgic fantasies and wondrous experiences. Slightly ashamed, the man realizes that his consciousness is full of junk that doesn't lead him anywhere, and he feels that his observant attention to details and other people amounts to pure voyeurism.
A song cycle about an autumnal longing From the unchanging pier (the title of the CD in Swedish) on the horizon.