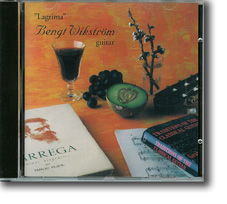 The elegant guitar player Bengt Wikström on this his second CD (the first was released in 1976 and is sold out) presents almost 50 minutes of Romantic and virtuoso music from the 1800:s. We meet the great masters of the time - Ponce, Sor, Tarrega, Albeniz, Villa-Lobos and Torroba - and some of the most well-known pieces of this repertory, such as Recuerdos de la Alhambra, Asturias and some Villa-Lobos Preludes.


Bengt Wikström, guitar: ( www.bengtwikstrom.com )
Ever since the debut in 1974 Bengt Wikström has toured and played in Scandinavia, Great Britain, Germany, and Austria performing more than 700 solo recitals. Wikström has appeared on radio and TV-shows and released several recordings. Apart from his concert activities Bengt has written articles for guitar magazines.

You can hear Bengt Wikström also on nosag CD WGW2 Liebeslied and nosag CD 139 Lariane.