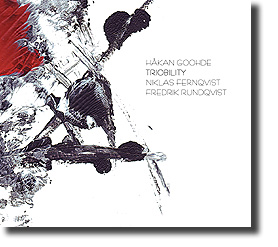 The third release on GASON Jazz label with guitarist/composer Håkan Goohde and this time he collaborates with bass player Niklas Fernqvist and drummer Fredrik Rundqvist - Håkan Goohde's CD "Triobility" is a clear demonstration of the breadth and force a trio of musical equals may have. The varied songs, written by Goohde, give the three musicians the opportunity to move through many different musical landscapes that range from the free, but also melodic improvisations in the first song "001" to the modern bebop-excursions in "Tarahumara." The responsive and energetic bass and drum accompaniment spurs Goohde to continuously play at the height of his ability and to continually explore new paths in the solos. Ensemble play is imaginative and detailed in both written as well as the more freely improvised sections where the songs form and character priority over allowing solos to become displays of playing skills. As a result, the listener is taken on the journey, even when the music is pulling in the more abstract way, which is a rare achievement.

Håkan Goohde is a guitarist and composer and has played with many of Sweden's most acclaimed jazz musicians such as Fredrik Ljungkvist, Joakim Milder, Karl-Martin Almqvist, Fredrik Nordström, Mattias Ståhl, Robert Nordmark, Johan Berke et al.

Niklas Fernqvist is a bass player and composer, and has increasingly established himself as one of the great voices in Swedish jazz. He can be heard along with, for example, Lina Nyberg and Fredrik Ljungkvist and in his own trio, "Graden / Agnas / Fernqvist" which also debuted in 2012 with the album "Cembra" on his own company, "Maine Coon Production".

Fredrik Rundqvist plays the drums and has been in the absolute top of Swedish jazz for many years. He has played with a wide range of both national and international artists such as Yttling Jazz, Anna Ternheim, Ingebrigt Håker Flaten, H3FK, Fredrik Nordström and Örjan Hultén to name a few. He is also a drummer and Co-composer since 2009 to the internationally acclaimed Australian singer Sarah Blasko.