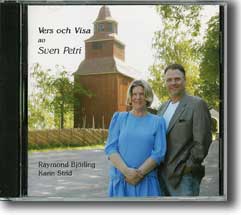 Sven Petri was born in Linköping in 1910. His composition spanned over many genres. He published a book with children's songs, and wrote many pieces for School Radio, where he also translated songs from other countries such as Israel, Russia, Iceland, and France.

From his own compositions where he has written both text and music, A Spring Concert (En vårkonsert) and Summer Chorale (Sommarkoral), are among the best known. Summer Chorale was written in 1976 and was performed for the first time at Seglora Church; it was therefore dedicated to Skansen.

Raymond Björling, opera singer, Jussi's grandchild, etc. etc. We are used to reading about Raymond in this way. But here, he wants to present another side of himself. He has produced this recording with the idea of letting his feelings rule, and during the recording an evolution took place. These songs are a new treasure of folk songs that are touching on many levels.

Since the fall of 2002, Karin Strid is the organist and musical director at Seglora church at Skansen. She also works as a freelance musician, e. g. as an accompanist in many different contexts. From 1989-2000 she was often engaged by the Royal Parish in Stockholm. She often plays music from the Romantic period, and has among other things the collected organ works of Mendelssohn in her repertoire.
She can also be heard on nosag CDs 034, 038 and 102.

Guest appearances on the CD from violinist Cecilia Zilliacus,
cellist Kati Raitinen and from Vocal ensemble Vocation.





You need Real Audio to listen to this file: Vårens första dag

Order CDs directly from GASON: Our Full Catalogue

Listen to all GASON CDs on the air 24h at:
Gas ON with GASON CDs