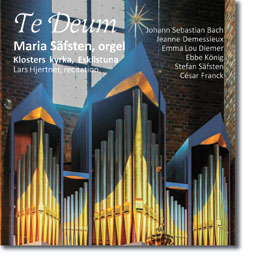 "You hold in your hand a CD that is a Te Deum, a song of praise to the Creator and to the queen of instruments, the organ, with all her register of clang, voices and colors. I wanted to make a disc that present myself as musician and organist, but also a portrait of the two organ instruments in Klosters church, Eskilstuna, which I use everyday in my work. Magnussons läktarorgel, built in 1973, is a solid child of its time, and together with the excellent choral organ built by Walter Thür 2004, creating a broad spectre of the sounding organ palette. With my music and the organs I want to create a colorful and varied Te Deum. "

Maria Säfsten, born 1968, organist in Kloster church, Eskilstuna congregation, with extensive concert activities. Studies at Sköndalsinstitutet and Royal College of Music, organist exam in 1994. Organ teachers were professors Ralph Gustafsson and Anders Bondeman. Continuing studies at the 2-year concert organist program at the same school with professor Torvald Torén as a teacher in solo organ playing and professor Anders Bondeman as a teacher in organ improvisation. Maria has also studied for Naji Hakim, Paris.

She has served in the Old Uppsala parish, Örebro Nikolai parish, and Grytnäs and Avesta congregations.
Prizes including the Agne Bäckström Scholarship, Music at Siljan 1994, The Cultural Grant in Avesta Municipality, Professional Women of the Year in Örebro County 2000, GSE Rotary Scholarship with one month's stay in USA and Pro Fide a Christianism's International Scholarship, which resulted in studies for Professor Margaret Phillips.


---