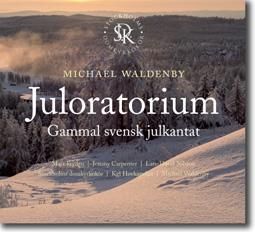 Christmas Oratorio: A light in the darkness
"Nature around Lake Orsa, with its blue mountains, burning sunsets and shadowy forests, has strongly influenced the musical language in my Christmas Oratorio. Many years ago I used to sit by the lake and dream. Some of the dreams moved around this music. The words are taken partly from the Bible, John Prolog, and from Christmas story. Mary's lullaby, which is present in the second part, uses the words of Lope de Vega. The two parts of the Oratorio is framed by the orchestral Intermezzo with its motto: The light shines in darkness, and the darkness has not overcome thereby".
Old Swedish Christmas Cantata: Brutally the Cathedral School
"Old Swedish julkantat, to the words of Oscar Levertin, is of a different kind. The poet drew inspiration from old times 'djäknesång' as it was practiced at the cathedral schools in the old times. The early eighteenth century forming the fund of the poem and the rather long text depicts, in both beautiful stanzas and brutal reality, a year in the "djäknar's" life. Burlesque is not missing. The solistical piano part, I wrote especially for my longtime friend and colleague Per Thunarf."
Michael Waldenby
Sopran: Maja Frydén
Bas: Jeremy Carpenter
Piano: Lars-David Nilsson
Stockholms Domkyrkokör
Michael Waldenby, conductor