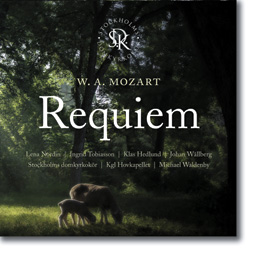 Requiem - Mozart's last work
Wolfgang Amadeus Mozart's final masterpiece was commissioned in 1791 by the Austrian Count Franz von Walsegg, as a tribute to the Count's only 21 years young deceased wife Anna. Mozart began his Requiem in Prague, tormented by an indefinable disease which would eventually take his life, thus depriving him of the opportunity to complete that his magnum opus. After Mozart's death, his pupil and assistant Franz Xaver Süssmayr completed the work, asked by the composer's wife, which he is said to have done in 100 days. The Requiem was first performed on January 2, 1793 at a private concert for the benefit of Mozart bereaved widow Constanze Mozart.
A requiem is the Catholic mass for the dead. The word requiem (Swedish spelling: rekviem) is Latin for rest, and the mass is so called after the opening words Requiem aeternam dona eis Domine (Grant them eternal rest, O Lord). The mass focus on prayer for the dead. Requiem is also a genre of music works whose origins lie in the Catholic Mass for the dead. Many early Requiem today presented as concert works, have been originally written to be performed as a religious rite, while the later works of the genre, such as Mozart's or Verdi's, have been principally concert works from the beginning.
Sopran: Lena Nordin
Alt: Ingrid Tobiasson
Tenor: Klas Hedlund
Bas: Johan Wållberg
Stockholms Domkyrkokör
Kgl Hovkapellet
Michael Waldenby, conductor