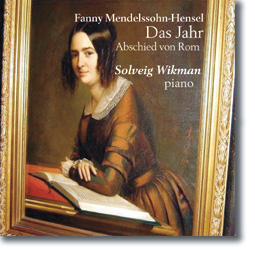 Fanny Mendelssohn-Hensel's piano cycle "Das Jahr" (The Year) was completed in December 1841. At the age of thirty-six, Fanny succeeded in producing a major piano composition, which dramatically expanded the scope of the small-scale piano pieces she had hitherto composed.

In the spring of 1840 Fanny wrote to her sister Rebecka: "I have composed a lot recently and I have named the short piano pieces after my favourite places. Some of the pieces came into my mind whilst I was in the places themselves, others were composed whilst reflecting memories of wonderful excursions. Henceforth the cycle will be a pleasant souvenir, a kind of second diary."

Solveig Wikman´s debut on the concert platform took place in 1965 and since then she has given concerts as a soloist, performed chamber music and acted as an accompanist all over Sweden, the neigh-bouring Nordic countries and other countries. She has also played piano duets with her husband Bertil Wikman for concerts, radio, TV and recordings.
---
CONTENTS:
Das Jahr
~ 12 Charakterstücke für das Forte-Piano
1
Januar (Ein Traum)
3'40
2
Februar (Scherzo)
3'28
3
März
4'53
4
April (Capriccioso)
3'25
5
Mai (Frühlingslied)
2'58
6
Juni (Serenade)
5'49
7
Juli (Serenade)
3'09
8
August
4'26
9
September (Am Flusse)
3'18
10
Oktober
3'53
11
November
6'01
12
Dezember
5'03
13
Nachspiel (Choral)
2'10
14
Abschied von Rom
3'39
Total time 55'53
---
| cd catalogue | sound clips | artists | composers | about nosag records |
Order CDs directly from nosag:
Our Full Catalogue
Listen to all nosag CDs on the air:
---

Legal Notice:
All recordings made available on these pages are done so with permission from STIM (The Swedish Performance Rights Society) and NCB (Nordic Copyright Bureau). They are protected by © copyright and any unauthorized use of the present soundfiles will be prosecuted. If you have any questions in this matter please visit STIM/NCB's website or contact us.