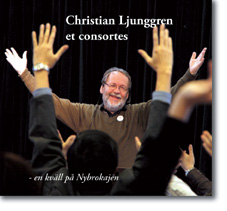 The entire live concert on this CD is based on texts that Christian wrote over the years.
Christian Ljunggren - Choirmaster, a radio journalist, lyricist, arranger, organizer studied at Uppsala University (musicology, theology, philosophy) and at the Royal School of Music, worked at Swedish Radio 1976-96 as music program maker, concert host and responsible for programs about music. He leads his choirs, Adolf Fredrik Madrigalkör (since 1965) and Nicolai Chamber Choir (since 1974) and was chairman of the Swedish Choral Directors Association 1985-1998 and KÖRSAM 1997-2003. He was General Secretary of IFCM (the International Federation for Choral Music) 1996-1999 and is the artistic director of the festival organization INTERKULTUR and for the "World Choir Games" since 2001.
On this CD program a lot of his friends - Amelie Fleetwood, Margaretha Ljunggren, Eva Larsson-Myrsten Susanne Rosenberg, Michael Magnell, Sven-Erik Alexandersson Fred Sjöberg, Lars Blohm, Michael Bellini, Anders Andersson and Olle Alvarson, voice, Annette Mannheimer och Erik Liljenberg, violin Åsa Stuve, viola, Helena Nilsson, cello Olle Linder, kontrabas, Staffan Isbäck, guitar, Gustaf Ljunggren, saxophone, David Ljunggren, trumpet, Sebastian Notini, drums, Maria Wieslander, cembalo, Michael Engström and Jesper Nordenström, piano
- perform texts by Christian Ljunggren at a live concert 2002 at Nybrokajen in Stockholm.


You need Real Audio to listen to these files:
JS Bach: En körledares våndor


Listen to all nosag CDs on the air:
"YESS music"
with the whole CD-catalogue of nosag records