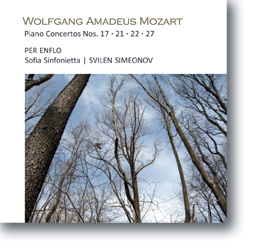 Per Enflo soloist, recitalist, chamber musician and accompanist with a large repertoire from Baroque music to contemporary music. He feels though, that closest to his heart are still Bach, Mozart, Beethoven and Schubert. His life long Mozart playing has been praised for the beauty and clarity of the touch and the soulfulness of the interpretation.

Svilen Simeonov internationally known and leading Bulgarian conductor and teacher, is Principal Conductor of Sofia Sinfonietta Orchestra since 2000; Principal Conductor of Vidin State Philharmonic since 1999 and Music Director and Chief Conductor of Sofia Amadeus Orchestra since 1994. Maestro Simeonov has performed all over the world in many prestigious concert halls.

Sofia Sinfonietta has its roots in a chamber orchestra founded in 1972 by the eminent Bulgarian violinists Dina Schneidermann and Emil Kamilarov. In 1987 it became Bankya Collegium Musicum and in 2003 it was extended to become Sofia Sinfonietta. Since 2006 it has its own metropolitan opera stage, a recognition of its status as a prominent opera and ballet orchestra.