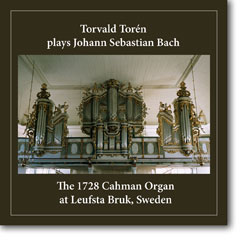 The organ virtuoso Torvald Torén plays the historically interesting old Cahman organ in Leufsta Bruk in Sweden:
The organ of Leufsta Bruk Church is the largest surviving Baroque instrument in Sweden. It was built between 1726 and 1728 by Johan Niclas Cahman (c. 1680-1737), the most eminent organ builder in Sweden at that time. Miraculously, it has been spared any really drastic alterations over the years and remains virtually in its pristine state. The organ was restored in 1933 by John Westerlund, Leufsta Bruk and in 1964 by Marcussen & Søn, Aabenraa, Denmark. In 2006 the organ was restored by Mats Arvidsson, Stallarholmen in cooperation with Åkerman & Lund, Knivsta.

This recording from 1975 presents the organ as it was after the restauration in 1964. At that time the organ was tuned in equal temperament. The organ then had regulator bellows from 1964 that have later been removed.

Torvald Torén (1945-2001) was one of Sweden's most prominent organists of his time. With brilliant technique and skillful interpretation he stood out as a model for an entire generation of young organists. In his concerts he devoted himself mainly to the French romantic-symphonic repertoire, and was considered worldwide to be one of the foremost authorities of this tradition. He gave recitals internationally in the most prestigious venues, and made a reputation for himself as a virtuoso organist of outstanding international caliber. He was also a sought-after lecturer and a jury panel member at several international organ competitions.