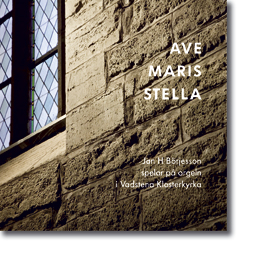 Jan H Börjesson (born 1969) studied of Gothenburg College of Music for 1987-91 Professor Rune Wahlberg, Professor Hans Davidsson, Professor Hans-Ola Eriksson and Jacques van Oortmerssen. since 2000, he is organist at St. Paul's Church in Gothenburg. He has performed in several countries in Scandinavia and Europe. Plus his activities as a church musician, he is active as a singer, organ consultant, and writer.

Here we hear him play the organ of the Abbey of Vadstena. He writes about the CD:

"Ave Maris Stella (Hail, Star of the sea) is the title of this CD and Moreover, the title of one of the disc's major works. Vadstena Abbey is the St. Bridget's Church. I have in my choice of music tried to present the large Setterquist organ by choosing mainly Swedish music from its own time. The Abbey is a place with great acoustics and we have in this recording, tried to pursue a spatial sound experience that might be perceived as diffuse but instead emphasizes the Cathedral side of the music. I hope that the Abbey Church newly restored organ will be known and appreciated by many and that the music I've chosen will be experienced authentic and convincing on this instrument."