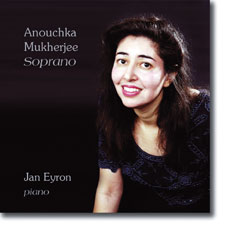 Anouchka Mukherjee is a dramatic Soprano with broad resourses of expression - from the big drama of Wagner and Puccini to close-ups in music by Swede Gösta Nystroem.

Anouchka Mukherjee made her national debut as a singer in Berwaldhallen, Stockholm, in 2007 singing Nicolai Medtner´s Sonate Vocalise. Anouchka has received The Agnes MacClean Vocal Scholarship from The University of St Andrews and a GTA Vocal Scholarship from the University of Missouri Kansas City towards a DMA in Voice Performance.

She has performed as a vocal soloist/concertsinger in the USA, Scotland, England and Sweden performing amongst other works Händel´s Messiah, Mozart´s Mass in C-Minor, Pergolesi´s Stabat Mater, Mendelssohn´s Hymn of Praise, Bach´s St Matthew Passion, Magnificat and Mass in B-Minor, Marzellina in Beethoven´s Fidelio and Nella in Puccini´s Gianni Schicci, as well as a range of concerts where opera arias, scenes from operas, lieder and songs have been performed.

Legendary accompanist Jan Eyron has in a long career both as soloist and accompanist performed all over the world from The Tchaikovsky Hall in Moscow to Carnegie Hall and Covent Garden, Royal Albert Hall and Queen Elisabeth Hall, accompanying singers such as Birgit Nilsson, Nicolai Gedda, Ingvar Wixell and Elisabeth Söderström.