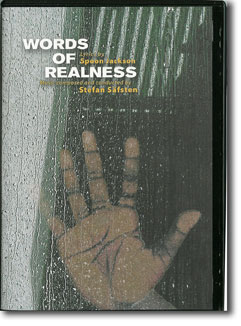 Spoon Jackson was born in 1958 in a small town in California. At the age of 19 he was sentenced to life in prison for murder. In 1985, Spoon began writing poetry with such success that he began being called "the poet."

While preparing the theater production of Samuel Beckett's "Waiting for Godot" at the San Quentin prison, the Swedish director Jan Jönsson came into contact with Spoon Jackson, who was persuaded to take part in the play to wide critical acclaim. Spoon has not only written drama and poetry, but also novels, fairy tales, and short stories, as well as an autobiography. Spoon Jackson has also been awarded the prestigious PEN Prize for his writing.

The music on this CD is the second written by Stefan Säfsten on poems by Spoon Jackson. (The first was "Freedom for the prisoned" nosag CD 101). Words of Realness is a philosophic, spriritual and very real work, where the composer and the author meet in a various styles music. The texts are included as a poems book in the package. Spoon Jackson participates on the CD by reading some of his poems (the recordings were made in secret, inside the prison walls with not allowed equipment).

Words of Realness was performed during June 2009 in the prison housing Spoon Jackson, by the same artists that recorded this CD.