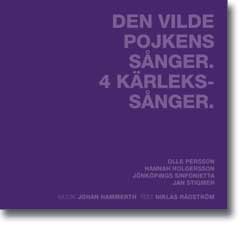 Two Song Suites by Swedish composer Johan Hammerth.
The Wild Boy´s Songs have a role model in reality. In 1800 a boy was captured and it was alleged that he had grown up alone in the wild amongst wolves. In his composition, Johan Hammerth has had in mind the mysteriousness surrounding the uncivilized boy. The vocal parts seeks simplicity and clarity whilst the orchestration builds rather more on clangs than melody.

Four love songs speaks about words and feelings like relationship, love, emotions, fragile, gentle, dissonant cross-roads, dark silhouettes, syncopated rhythm, rhymes, united you and I and repeated mantras - All that is left is you and me.

The amazing singers Olle Persson and Hannah Holgersson colours each song cycle with great variety in expression and emotion and together with the superb playing of the Jönköping sinfonietta and its leader Jan Stigmer we get an expressive experience far beyond the every day concert.