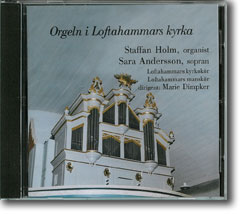 Staffan Holm was born in 1961 and he is organist in Linköping S:t Lars parish since 2001. On this CD he plays the unique historical church-organ of Loftahammar Church, in the county of Kalmar, diocese of Linköping. It was built in 1767 by the organ-builder LARS WAHLBERG, Vimmerby, and his colleague ANDERS VOLLANDER. The organ has been preserved intact to this day, through 240 years.

The music on this CD will hopefully, in some cases give rise to new thoughts in regard to the repertory of organ music. We find new music by the German composer Andreas Willscher, who works in S:t Joseph-Wandsbek church in Hamburg. Willscher has written opera, oratories, symphonies, choir- and chamber-music, but also music for the cabaré and for rock-ensembles. The cabaré-influence is quite easy to hear in his two organ-cycles "Insektarium" and "Aquarium". They were written during 2004 – 2005, and inspired by the church-windows in S:t Franciscus-church in Hamburg. They tell of the joy of all Creation, seen through the eyes of S:t Francis. The two Fugues of W. A. Mozart for organ in E-flat major and g minor are more traditional. They were probably written in 1782.

On this CD, Staffan Holm have deliberately chosen many works, that were not written for the organ. An example is Andantino in E-flat major, by Mozart composed in 1790. With its light shimmering, it is very well suited for the Loftahammar organ.
The same lightness can be found in Flute Piece, by Teke Biljsma, from the Netherlands. Johann Gottfried Walther, 1684 – 1748, was a contemporary of Bach. Here he is represented by a small but equilibristic fugue in F major. By the end of the fugue, there is a rythmic displacement, that makes it very engaging. Using the stops 8' and 4' makes this piece sound as if made for this kind of organ. Among other, lesser known composers, are Friedrich Schmoll. Date of birth is not known, but he died in 1792. From his: "Six small pieces for the organ" I'v chosen nr 3, Un poco Allegretto. The minor part is somewhat similar to the last movement of W. A. Mozart: Piano concerto in d minor.
Two pieces are by Johann Sebastian Bach, one for solo violin, and one for cembalo. The first is Allegro of the violin sonata in A Major, that was later rewritten for the cembalo. Its dramatic characther can be likened to en intense conversation between two people. The second piece by Bach is from Toccata in D Major for cembalo. This Gigue in 6/16th time is a very stirring piece, resembling a whirling dance in major and minor tones.
It would be impossible to ignore Dieterich Buxtehude. The piece "Auf meinen lieben Gott" is a suite, with five variations of a choral melody, in the form of dances.



You need Real Audio to listen to this file:
A Willscher: Orgelkoralle


Listen to all nosag CDs on the air:
"YESS music"
with the whole CD-catalogue of nosag records