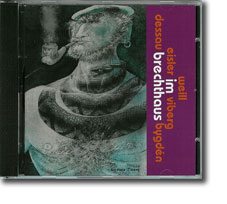 Bertolt Brecht spent several years in exile in the Nordic countries. The compositions of this CD are from poems written during this period. He worked in close collaboration with the composers Hanns Eisler, Kurt Weill and Paul Dessau. This music has often been performed in theatrical style, but here a lyrical version is presented for soprano and accordeon, in the original keys, as written by the composers.

Kerstin Viberg is a lyric colorature soprano. She has sung the leading roles in Igor Strawinsky's The Nightingale, Leonard Bernstein's Candide, E. Humperdinck's Hansel and Gretel, W.A. Mozart's The Impresario and the role of Venus in György Ligeti's The Great Macabre. Also active as a romance singer. Works as a teacher of singing at the Royal College of Music in Stockholm.
Kjell Bygdén is an accordeonist. Educated at Trossingen State College of Music (Staatliche Hochschule für Musik Trossingen) in Germany under professor Hugo Noth. He has worked as a theatre musician, soloist and chamber musician, recently in collaboration with bass singers in a production of Franz Schubert's Winterreise.

Since a couple of years Kerstin and Kjell work together as a duo.



You need Real Audio to listen to this file:
Eisler/Brecht: Das Lied vom kleinen Wind


Listen to all nosag CDs on the air:
"YESS music"
with the whole CD-catalogue of nosag records