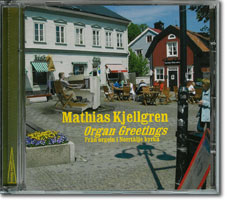 The very talented young Swedish organist Mathias Kjellgren here presents real classical favourites, played on the organ of Norrtälje church, built in 1872 by P.L. Åkerman. Rebuilt several times during the 20th century. Totally rebuilt in 1971 with for instance new windchests, but 13 of the original stops was maintained, but restored.
In the year 2001 an additional digital console was installed in the chancel of the church and additional digital stops were installed by Allen Organ Company.

Mathias Kjellgren carries out an extensive activity as concertorganist and has given recitals in almost all part of Europe, in the USA and South Africa. He has also collaborated with several symphony orchestras, among others the Royal Opera Orchestra in Stockholm, the Norrköping Symphony Orchestra, the Gävle Symphony Orchestra among others. He has recorded several CD:s both as a solo organist and chamber musician together with different soloists and ensembles, and appears both in national as well as in international radio and television.