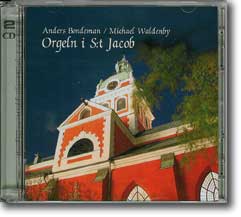 On this double CD you hear organ music by Bach, Harris, Yon, Franck, Lemmens, Willan, Boëllmann and Widor played on the great organ of S:t Jacob´s church in Stockholm, Sweden.

The soloists are
Anders Bondeman(born in 1937 and is considered the creator of the modern school of improvisationin Sweden, and also one of the greates interpreters of Bach´s music in our time.

Michael Waldenby (b1953) Studied with Alf Linder, Carin Gille-Rybrant, Anders Bondeman and others. Choir master at S:ta Clara 1979 – 2002, then and presently organist at S:t Jacob. Waldenby is mainly a composer of songs. He has composed, and in some cases published, numerous works for solo, choir, orchestra, and the organ.

Anders Bondeman is heard also on nosag CD 097, The Organ of Gamleby Church.

Michael Waldenby is heard also as a conductor on nosag CD 2078, Requiem, by Gabriella Gullin.




You need Real Audio to listen to these files:
Pietro A Yon: Humoresque (Michael Waldenby)
JS Bach: Wir glauben all´an einen Gott (Anders Bondeman)


Listen to all nosag CDs on the air:
"YESS music"
with the whole CD-catalogue of nosag records