Full GASON Catalogue
We accept your Credit CARD via SECURE PayPal SERVER!

Håkan Goohde
TRIOBILITY

The third release on GASON Jazz label with guitarist/composer Håkan Goohde and this time he collaborates with bass player Niklas Fernqvist and drummer Fredrik Rundqvist - Håkan Goohde's CD "Triobility" is a clear demonstration of the breadth and force a trio of musical equals may have. The varied songs, written by Goohde, give the three musicians the opportunity to move through many different musical landscapes that range from the free, but also melodic improvisations to the modern bebop-excursions. ~ Check it out


NEW RELEASE - Johan Berke
SIMPATICO

This is the 9th CD with this group, and another landmark of the Johan Berke output!
The repertoire consists of new original compositions by Berke recorded in the Autumn of 2016. ~ Check it out

DUOJ BRAZIL - bip-bip

"DUOJ Brazil! We are in a permanent, ongoing investigation of the Brazilian musical culture, and in doing so, we realize that the source is neverending! So far we have only scratched the surface and it is absolutely amazing! Our first album, Bip Bip, is an impassioned flirtation with Brazil, and this is an imprint in time of where we are right now! Welcome!"
bip-bip



NIKLAS BJARNEHÄLL - Bonita

An amazingly laid-back and soothing solo piano CD where pianist/composer Niklas Bjarnehäll travels through fresh new grounds and new views on chamber jazz standards - a really relaxing release!
BONITA

MORE FROM NIKLAS BJARNEHÄLL and CISSI & LARS JONSHULT:



TRIO ASKELADD
Fresh, melodious and very close music for trumpet, trombone, piano and occasional tender vocals. Trio Askeladd features Geir Anfinsen, Niklas Bjarnehäll and Odd Inge Gjelsnes, working in a style and genre of their own - contemplative, sincere and very dear.
TRIO ASKELADD





DUOJ
This is the debut album from married couple Cecilia Jonshult, vocals, and Lars Jonshult, double bass & bass guitar. On three tracks, Krister Andersson plays tenor saxophone and clarinet which contributes to the magic of this music.
DUOJ: BETRAKTELSER






LES3, The Zoo-ESCAPE
This is the debut album from LES3 a jazz trio consisting of
Lars Jonshult, double bass, Niklas Bjarnehäll, piano and Mathias Dahl, drums.
A tight ensemble with original material and surprizes!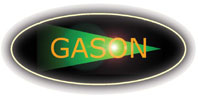 To GASON Complete Catalogue!
We accept your Credit CARD via SECURE PayPal SERVER!
gason@nosag.se
These pages were constructed on a model by Mattias Franzén, Stockholm, 1997
logo by Dave O'Reilly, Australia, 1998