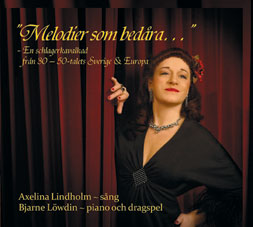 Axelina Lindholm portrays on this CD many of the most beloved performers from the 30's to the 50's, such as Ulla Billquist, Alice Babs, Vera Lynn, Sickan Carlsson, Marlene Dietrich, Greta Wassberg, Zarah Leander and Edith Piaf. Bjarne Löwdin accompany with piano and accordion.

Axelina Lindholm is a classically trained and versatile singer with a special predilection repertoire for the 1930 -, 1940 - and 1950's. See also: www.axelina.nu

Bjarne Löwdin is an experienced accompanist with experience from entertainment, theater and musical industry.

You need Real Audio to listen to this: Vill ni se en stjärna


Listen to all GASON CDs on the air 24h at:
Gas ON with GASON CDs