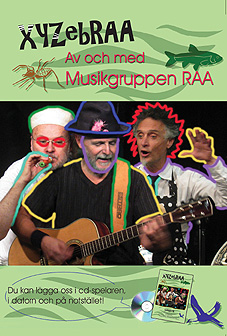 This year's children's album and song book that will last for many years - Musikgruppen RAA presents playful songs by Kaj Magnusson, songs about letters, pollution, numbers, animal bite, animals sleep, seasons, imagination, to be mimicked and much more. The songs are interspersed with small talk in a meadow between the three participating clowns surrounded by bumble bees buzzing, birds singing and bleating goats. The disc package is in DVD box-size and includes a colorful and PICTURESQUE book with all the lyrics, music and chords, and the disc itself contains further 20 minutes film for your computer's CD-ROM drive, with a summary of the stage performance XYZebRAA.

The members performing in this show are Bert Kolker, Kaj Magnusson and Stellan Sagvik (in some songs assisted by other members Göran Stark, Arnold Svensson and Micke Lönnbjer) on this CD play more than 25 different instruments from every possible cultural spheare.

(Please visit also the RAA home page at http://raa.just.nu)
or listen to RAA Web Radio on the web 24h at: RAAdio.



You need Real Audio to listen to this song: Djurduett


Listen to all GASON CDs on the air 24h at:
Gas ON with GASON CDs