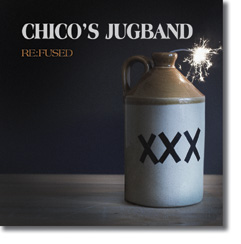 Borrow, remix, interpret, experiment and create their own version of various styles and origins, that is the hallmark of Chico's Jugband. The band was formed in 1985 in Stockholm - and was probably the only jugband of its kind in Sweden until the tour end in 2001 - a band that always took advantage of the great freedom in the jugband tradition.

This recording was made with totally analog technology during two hectic days in the fall of 1995 in Göran Ehrnlund´s studio outside the little town Säter in the beautiful Dalecarlia region.

The designation Jugband began to appear in the U.S. a few years after 1900 and the music had its heyday in the interwar period 1920-1940. It was called "The New Craze" and was primarily dance and light music with artists such as Gus Cannon's Jug Stompers and the Memphis Jug Band - important role models for Chico's Jugband. And with the jugband tradition in the back, Chico's "jugbandified" music of other artists such as Coley Jones & The Dallas String Band, Bo Carter & The Mississippi Sheiks, Blind Blake, Big Bill Broonzy and Washboard Sam.

But what is jugband music? Does it belong to any particular category and is it possible to place in any of the usual music genres? Is it the blues, or any kind of traditional jazz and are there hints of ragtime? And of course you can hear some of the elements of old-time country music, right?.

Christoffer Hallgren, alias Chico, plays guitar, mandolin, mandolin banjo and kazoo and is the lead-singer
Sven Faringer plays fiddle, harp guitar and sings backup
Anders Storck plays guitar and sings backup
Claes Palmkvist plays jug (1 gallon) and horn.

You need Real Audio to listen to this: Baby, Please Don't Go


Listen to all GASON CDs on the air 24h at:
Gas ON with GASON CDs